We all know Flo from the Progressive commercials: the bright-red lipstick, the starched apron, the blue headband, and the ever-perky personality. But not many of us know anything about Stephanie Courtney, the actress who has portrayed Flo in dozens of Progressive television commercials since 2007. Here are a few interesting tidbits we've discovered about her.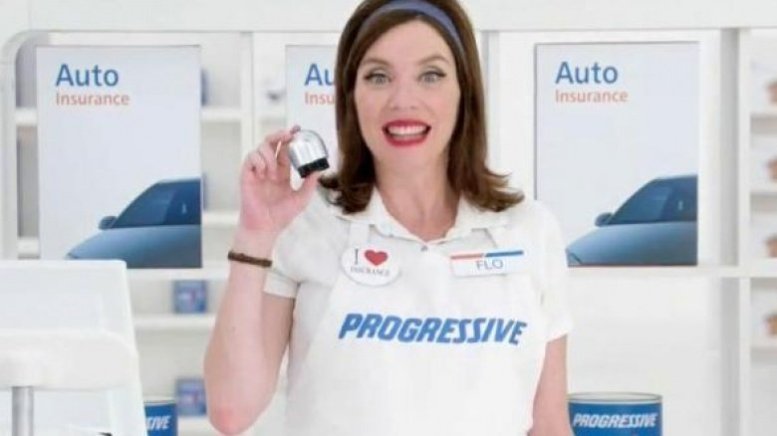 Progressive wasn't her first commercial.
Courtney's first commercial was for Bud Light back in 1999. It was a Super Bowl spot, leading the actress to believe she'd finally made the big time.
"That was my first audition, and it was just like this crazy Superbowl commercial. And I was like, I'll quit all my day jobs! And then that dried up, and then I had to call back to all my day jobs," she joked to Clevaland.com.
Before becoming the face of Progressive, Courtney booked "about one [commercial] a year," according to an interview with The Washington Post. "What I netted wasn't exactly matching the hours I was putting in. I figured I'm not a face that makes people want to buy Lysol. Then I auditioned for Progressive," she says. We're guessing that "net earnings to hours put in" ratio has shifted a bit.
Flo is based on Courtney's mom.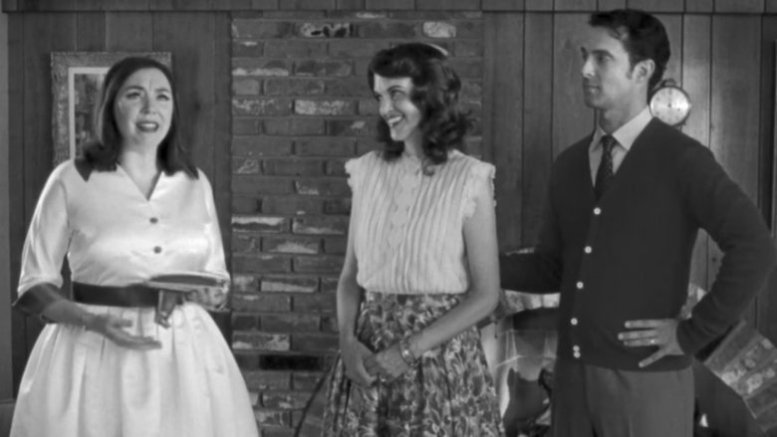 In a 2016 interview with lohud, Courtney gives the inside scoop on how she landed the once-in-a-lifetime role of Flo. "I went in for an audition eight years ago for a 'big box store employee,' and I put on my polo shirt and put my hair in a ponytail and showed up," she says. But Courtney had more than just the look that Progressive wanted. "What they were looking for was basically a friendly neighborhood waitress; she is super friendly and nice, almost to the point of madness, and I was like, 'I can do that.' I went straight to my mom and I credit her with Flo's personality," Courtney says, adding, "I said, 'Yes, I can become Jane Courtney!'"
Courtney didn't walk into that audition with the mindset that she was going to be playing this character for the next decade. She said in that first audition she had just one line, but the director at the second audition invited her to "play with the role," which lead to…
Courtney's improv skills changed the original ad concept.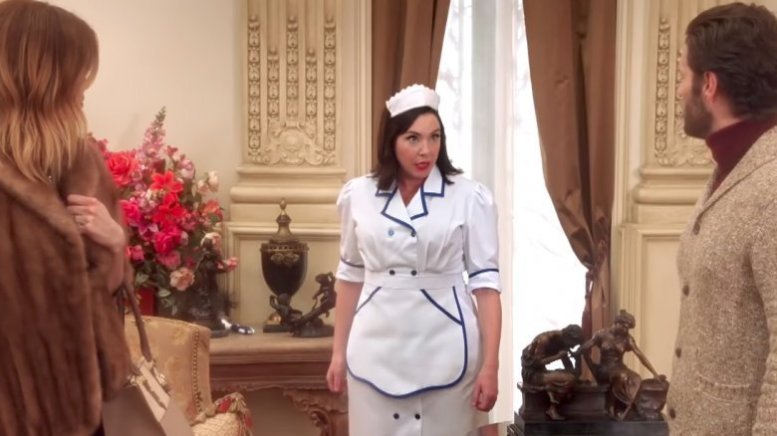 In an interview with Advertising Age, Progressive CMO Jeff Carney says, "Flo was an accident." He goes on to describe how the original concept for the "Superstore" ad campaign was "to make shopping for insurance a pleasant experience." Flo was just supposed to be a friendly cashier in the superstore, but Courtney brought the character to life when she ad-libbed the line, "wow, I say it louder." That was essentially the birth of Flo., as company execs then saw the opportunity to "surround Flo with characters to play off and offered other opportunities to expand Flo's story." Since that fateful audition, Courtney has continued to be an integral voice in how the character of Flo has progressed.
Company execs saw the opportunity to "surround Flo with characters to play off and offered other opportunities to expand Flo's story." Since that fateful audition, Courtney has continued to be an integral voice in how the character of Flo has progressed (pun intended).
She actually helps write the commercials.
In 2009, Courtney told Cleveland.com about the backstory she envisioned for Flo, saying, "When I picture Flo in life she drives her little Mini Cooper around town and it's basically like when Bob Hoskins drove into Toontown in Who Framed Roger Rabbit. Basically all the buildings and the birds are singing in her mind." She says that Flo isn't a complex character and that she's "just so excited for any good quality she sees in a person."
In her 2016 lohud interview, Courtney talks about how she's helped shape Flo's personality through the years. "The writers are very open to what I think; there may be some improv here now and then, that is encouraged, by the way," Courtney says, adding, "All of us were working so hard to find out who this person was and what the boundaries were. With Flo, she was sort of originally this perfect little Number One employee, but the power has gotten to her." Uh oh, sounds like her little sidekick dude, Jamie, might want to sleep with one eye open.
She's been acting for quite a while.
In various interviews, Courtney has spoken about her love of performing. She told lohud.com that the theater was an early obsession, stemming from frequent family trips to Broadway, including the time she was inspired by a young Kevin Kline's performance in The Pirates of Penzance. After seeing that show, she decided she wanted to be an actress, telling Cosmpolitan, "By the time I got to middle school, we did a play a year, and I was in all of them. In high school, we did a fall and a spring musical, and I was always in one of those. I would even show up to rehearsals I wasn't supposed to be at. I loved everything about it, and I was never bored by it."
After graduating from college, she studied acting at the Neighborhood Playhouse in New York City for two years. During that time she worked odd jobs and went on a ton of auditions, eventually landing a gig with Theatreworks USA, which is how got into the stage actors union. From there, it was the typical working actor's grind—more odd jobs, auditions, and small parts—until she made her way out to Los Angeles.
She's appeared in a bunch of TV shows and movies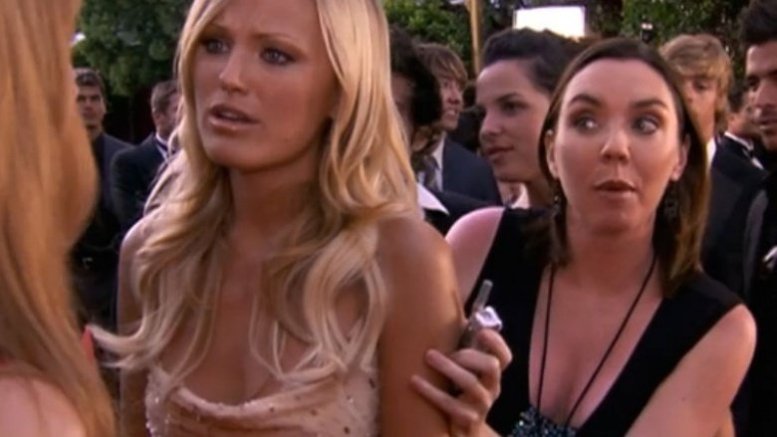 Courtney's definitely had success outside of advertising work. If you've ever had a moment where you've thought, "Where else do I know her from?," it's probably from one of the 30 shows she's appeared in since 1998. A quick glance at her IMDb page shows she's been on Mr. Show with Bob and David, Angel, Tom Goes to the Mayor, and 2 Broke Girls, to name a few. She also appeared in five episodes of Mad Men, as Marge, a switchboard operator. If none of those shows rings any bells, then you may recognize her from some of the movies she's appeared in, such as For Your Consideration, The Brothers Solomon, or The Heartbreak Kid, in which she appeared in scenes with Ben Stiller.
She's a stand-up comedian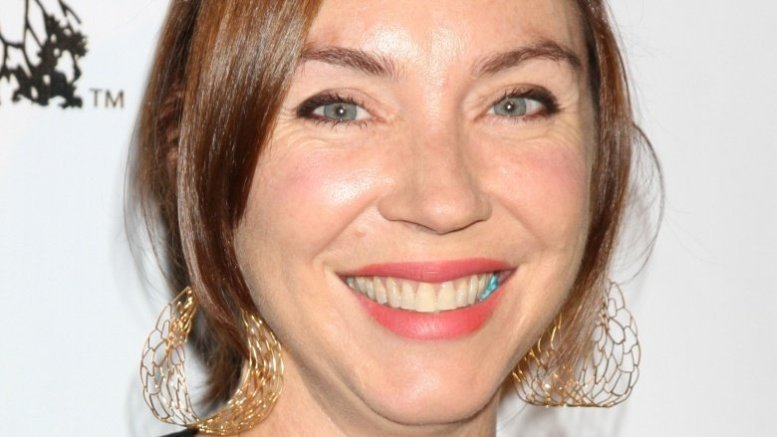 Courtney's comedy career began in 1996, with an invitation from a friend to perform on a show called Newborn Comics—Actors Who Stand Up! Speaking with Cosmopolitan, Courtney says she had two weeks to create a six-minute routine, and although comedy was a big change for her, she "felt a lot more comfortable" performing comedy, as opposed to dramatic acting. "Stand-up was a lot easier than trying to stage a play at a theater. I could perform and be seen without having to spend a lot of money looking for a location to rent," she says.
It was actually stand-up that brought Courtney out to California, which, in turn, lead her to her true comedic love: improv.
She's a member of The Groundlings
Courtney's comedy and passion for acting led to The Groundlings, a legendary improvisational and sketch comedy group in Los Angeles. After seeing one of their shows for the first time, Courtney describes being "blown away," and she signed up for classes the next day. Once a member of the Groundlings, Courtney worked her way up to becoming a member of the main company, whose alumni include Jim Rash, Will Forte, Melissa McCarthy, Will Ferrell, and Kristen Wiig. That's good company to be in.
She graduated from Binghamton University
Long before earning her comedy chops with The Groundlings and eventually becoming Flo, Courtney knew she needed a backup plan. Well, at least, her parents did. At their urging, she enrolled at Binghamton University in New York, where she earned her English degree. While there, she performed in many plays, even portraying Elizabeth Proctor in a production of The Crucible, before graduating in 1992. She was invited back to the university to deliver the 2015 commencement address.
She lived in France, twice.
When Courtney's father, a high school history teacher, had the opportunity to take a sabbatical year and travel to France to get his master's degree in European History, he took his entire family along. Courtney was 3-years-old, so she doesn't have a ton of memories from that time, but she did tell The JV Club podcast that she was "instantly bilingual," though she's since forgotten how to speak French.
Courtney also told The JV Club that she returned to France her junior year of college for a semester abroad, living with her host family in the city of Avignon for five months. She has many memories of this time, although not all of them great. Courtney recalled her awkwardness as an American not exactly assimilating well to french culture. "I ate, like, olympic amounts of bread and cheese, and then I outgrew all of my clothes," she joked, adding, "and I remember, I was so sad, like, I really looked like Gerard Depardieu. I couldn't afford a haircut, like, no makeup, and I'd like mope around France because I felt so bad about myself."
She's a playwright.
Aside from performing in other people's work, Courtney penned a play of her own titled Those Courtney Girls. The play is based on exaggerated versions of herself and her sister, Jennifer, and their lives as broke actors. It was included in the 2000 Aspen Comedy Festival. The play didn't do very well there, according to Courtney, but she did have the chance to meet Fred Armisen, co-creator of Portlandia, and Darlene Hunt, creator of Showtime's The Big C, while she was there.
No one recognizes her on the street.
Although no tricks or prosthetics are used, transforming into Flo takes a lot of time and make-up. It takes about one hour of teasing to get the hair just right and another hour to apply the thick lipstick and eye makeup. In real life, her style leans more towards the J. Crew look, according to People "I'm sort of East Coast so I like the off-white and the navy blues and the low-key preppy kind of thing," she tells the magazine, also noting that she "barely gets recognized in public."
Of course, that interview was from 2009, just two years into what became a decade of Flo commercials. It's likely that Courtney now receives slightly more attention, as evidenced by a recent bizarre street encounter she had with TMZ during which the tab asked her about Harrison Ford's airplane mishaps. Um, what?
She's a late bloomer.
According to Cosmopolitan, Courtney married her husband, Scott Kolanach, the lighting director for the Groundlings, at age 35. She got the Flo gig when she was about to turn 38, and had her first child at 40. But she says, "it tastes just as sweet when it's late." At this age, she approaches her work a lot calmer and saner than she would have in her twenties, when she would have wasted her money on "sweater capes and mid-sized winter boots," according to her.
She didn't die in May of 2014.
According to The Epoch Times, on May 27, 2014, eBuzzd—a site notorious for spreading false rumors—published an article stating that Courtney died in a car accident while driving her Lexus LX in New York. Obviously, this did not happen. As of this writing, she is alive and well with her husband and family, living in Los Angeles, and has no plans to stop portraying Flo for Progressive Insurance.
SOURCE:http://www.nickiswift.com